Welcome on our e-shop. Shipping costs for Switzerland are included in all displayed prices.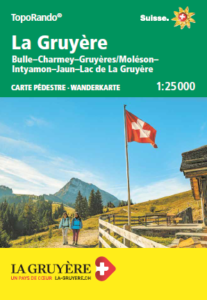 La Gruyère – Hiking map – CHF 26.10
A map on the scale of 1:25,000 with indications of the time required, and notes on bus stops, railway stations, mountain huts, places of interest, and so forth.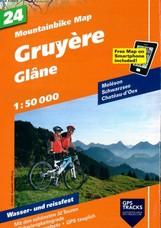 Mountainbike map Gruyère-Glâne – CHF 26.90
The map on the scale of 1:50,000 with 32 mountainbike tours in the Pre-Alps contains all the useful information.
Drinkin bottle "La Gruyère" – CHF 14.00
La Gruyère Tourisme has an ideal water bottle for hiking, cycling or family outings, in summer or winter. Thanks to its 500 ml capacity, you will be able to quench your thirst when you are out and about.
Sunglasses "La Gruyère" – CHF 14.00
With a protection of UV 40, they will protect you from solar rays. And thanks to its white frame and red arms with our heart-shaped logo, you'll look great!
Umbrella "La Gruyère" – CHF 23.00
The Umbrella La Gruyère Tourisme will go everywhere with you in case of rain! Foldable and with its automatic opening, this black umbrella decorated with our logo and small hearts on one side, will quickly become indispensable for all your outdoor activities.
Cap "La Gruyère" – CHF 20.-
The La Gruyère Tourisme cap is the essential element to complete your summer look! Dark grey with a red visor, it will protect your head from the sun in style.
Various stickers – from CHF 3.50
La Gruyère Tourisme has magnificent stickers to offer in the colours of the region. This sticker is made to be stuck on the window of your car or on the window of your house / shop!